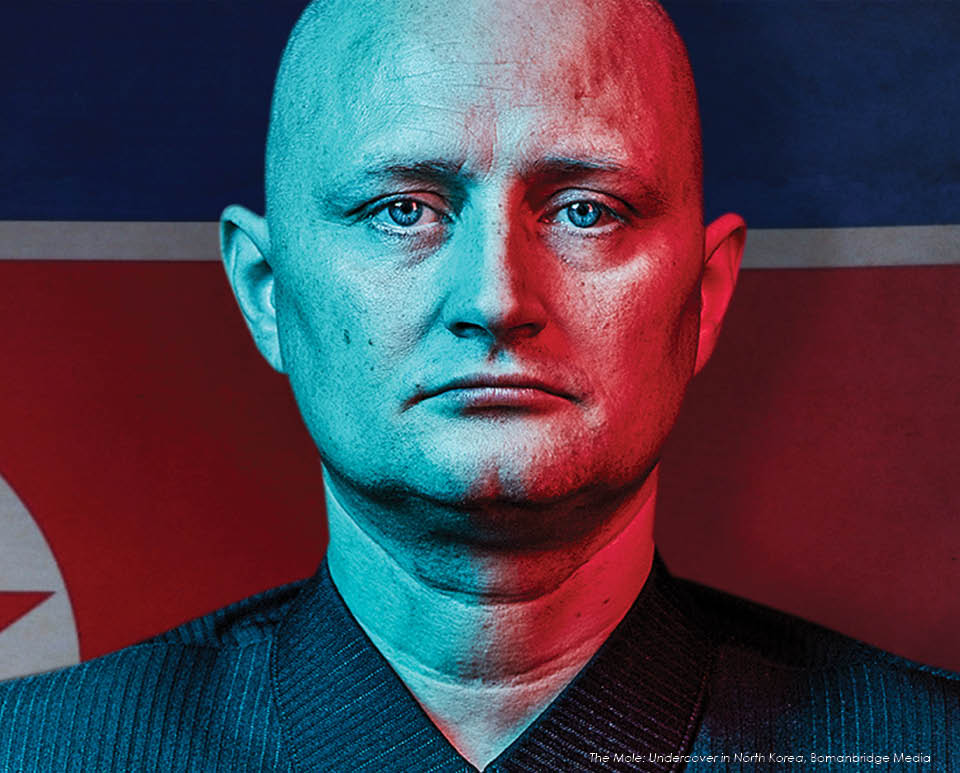 Singapore, July 12th, 2021: Bomanbridge Media's distribution and production company is thrilled to officially launch in Asia Pacific the astonishing, real-life undercover thriller documentary, The Mole. As Hugh Griffiths, coordinator of the UN panel of experts on North Korea between 2014 – 2019 says, "The film is the most severe embarrassment to Chairman Kim Jong Un that we have ever seen."
The Mole (1x126'/2x62/2x52') is co-produced by BBC, DR, NRK and SVT and directed by award-winning, provocative Danish filmmaker Mads Brügger who was already unable to visit North Korea himself after making his highly revered 2010 film The Red Chapel. His past documentary features also include Cold Case Hammarskjöld, St. Bernard Syndicate and The Ambassador.
Filmed in secrecy over a period of 10 years, The Mole infiltrates North Korea's illegal weapons trade, drug manufacturing and other criminal activities by following an ordinary retired chef (yes, a Chef), Ulrich Larsen, from Copenhagen who rises through the ranks of the North Korean Friendship Association to help the film team uncover criminal activity within the North Korean government. The documentary has been described as the most disturbing story of the 21st century yet on North Korea.
This series tells the story of 'the Mole', a family man from Denmark turned secret agent, and 'Mr James', a former French foreign legionnaire and convicted criminal, posing as a shady billionaire businessman. Together with director Mads Bru¨gger they carry out a private undercover investigation, trying to find hard evidence to prove how North Korea is busting UN sanctions. Incredibly, these two unlikely characters gain access to a group of pseudo government officials working together to produce and distribute drugs and weapons for dubious clients. The Mole, Mr James and the filmmakers use hidden cameras and microphones to secretly record their meetings. Contracts are signed, deals are cut and soon the team become involved in a plan to build a secret, underground weapons and drugs factory somewhere in Africa. But how far can they go without blowing their cover?
The Mole aired on NHK in Japan on 21st February 2021, resulting in a remarkable 50% increase in their slot ratings and viewer demands. The Mole will have a theatrical release as well in Japan tentatively this fall. Other key broadcasters around the world securing the rights in addition to BBC include ZDF Germany, and Canal+ in France.
The documentary has also won the most coveted film and TV award in Denmark, the 2021 Danish Film Awards (Robert) for 'Best Documentary'.
Sonia Fleck, CEO of Bomanbridge Media comments, "This Docu Feature is ten years of effort; we are incredibly proud to be collaborating with such a maverick Director as Mads Brügger, and DR of Danish Broadcasting Corporation to bring this unbelievable story in North Korea to the rest of Asia. The unveiling of this incredible discovery under the guise of modern-day spying is almost unreal – and yet it is completely authentic. We are loyal supporters of strong factual story-telling and are proud to bring this important film to the region".
"THE MOLE is impossible to ignore and has already been sold to over 25 TV stations around the world. We are excited to be working with Bomanbridge Media getting this extra ordinary title out in Asia Pacific." – Kim Christiansen, Executive Producer, Documentaries & Co-Production, DR Sales
"For me as a filmmaker and a journalist it is of enormous importance to find as big an audience as possible for "The Mole". Especially in Asia, where North Korea poses a clear and constant danger for the entire region. As "The Mole" shows, the criminal behavior of the Kim-regime is not only a threat for the people of North Korea, but also for people who live outside the curtain." - Mads Brügger, Director